What We Do – German Kitchen Design Company, Bishop's Stortford
Since 1990 Albany Kitchens has been providing German kitchens across Bishop's Stortford and beyond. Building state of the art modern kitchens for clients in Bishop's Stortford and throughout Hertfordshire. German innovation is much sought after for new fitted kitchens due to their stylish and inspirational designs.
By joining up with leading manufacturers we supply quality German kitchens at a highly competitive price point.  They are functional and durable while remaining attractive and stylish. From initial design to completion, our team is involved in every step of the process.  We ensure our clients receive the best German kitchens for their homes.
From modern kitchen cabinets to precision cut worktops, Albany Kitchens makes sure that you receive the German kitchen design you have always dreamed about.
German kitchens are rising in popularity throughout the UK and the rest of the world. Recognised by their stylish designs and innovative technology.  German kitchens are the number one choice.  For those who want clever space and storage options as well as stunning designs. German kitchens are hand-made with ultimate precision which boasts accuracy, quality and style.
With state of the art machinery and cutting tools, we offer German kitchens finished with precise measurements and flawless, smooth results. The cutting edge designs ensure that your kitchen is strong, practical, and built to last for many years to come.
Quality Modern Kitchen Cabinets
Our commitment to superior-high-quality construction enables us to create kitchen storage options that are fully functional while economising on space. It is the precision engineering of German kitchen designs that firstly puts them as a clear leader in kitchen design.  Secondly, doors and cabinets cut to the exact size and length and finish offers maximum practicality.
In addition, we personally inspect all new fitted kitchens to confirm that they fully comply with the highest standard. Our aim is to provide all our clients with an optimum quality German kitchen design at an affordable price.
Here at Albany Kitchens Bishop's Stortford, we understand the importance of quality. Most importantly we work closely with top German Kitchen manufacturers, we ensure that all of our kitchens meet the highest possible standards to see that your kitchen is beautiful, strong, and durable.
We thoroughly inspect every kitchen to ensure that our customers receive high-quality kitchens at fair and competitive prices.
Innovative German Kitchen Design
German kitchens have become increasingly popular due to their innovative and modern design aesthetics. The latest in state of the art technology.  Albany Kitchens stocks a range of designs that provide the best in style and practicality.
With an ample selection of unique kitchen layouts to choose from, you can be confident that your new fitted kitchen installation will be perfectly attuned to your personal tastes. For instance sleek and minimalist handle-less modern kitchen cabinets through to designs that merge traditional aesthetics.  Most importantly with that contemporary touch, German kitchens are as aesthetically pleasing as they are serviceable.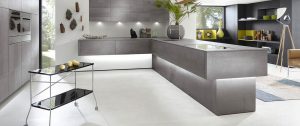 They are built-in state of the art factories with the latest cutting-edge machinery, producing a vast range of kitchen design options at premium grade quality. From sleek high gloss finishes to minimalistic layouts and clever storage options; Above all, German Kitchens can offer you a stylish and practical solution suited to all tastes and budgets.
A New Fitted Kitchen Tailored To You
Whatever ideas you have in mind, German kitchens offer versatility and flexibility to realise your intended kitchen concept. Modern kitchen cabinets, kitchen worktops, and furniture can be shaped to any size or form you desire to fit wherever needed.
When you engage Albany Kitchens to achieve your dream kitchen we will ensure that every detail is planned and fitted according to your customised needs. With our extensive range, we will help you choose your dream kitchen without breaking the bank.
The beauty of German Kitchens is the vast choice.  For instance doors, cabinets, and furniture are available in almost any size. This gives you a lot of flexibility and freedom of choice when it comes to choosing your preferred kitchen design layout. Sizes and shapes are no longer a worry, with a German Kitchen.  In addition, you can make the most of your space and utilise every inch of your kitchen.
Whether you want to:
Hide your appliances
Create an open-plan setting
Have handleless doors and cabinets
A German Kitchen can provide you with a perfect solution.
Experienced Kitchen Consultants Committed to Customer Care, Every Step of The Way
At Albany Kitchens, Bishop's Stortford we have been creating bespoke German kitchen designs for customers for over 30 years. We pride ourselves on our dedication to the highest level of customer service, affordable prices, and above all a customer-led approach that ensures everything is to your complete satisfaction.
We can help you with all aspects of your luxury kitchen from planning & design to installation and integration of kitchen appliances. Therefore, our dedication begins right from the start, our skilled and qualified installation team can install your new kitchen with precision and care; whilst respecting your home in the process.
In conclusion, we understand that every customer has different needs and tastes when it comes to designing a newly fitted kitchen. Our team of kitchen specialists offers a free home consultation service where we can go through everything needed to turn your dream kitchen into a reality.   If you would like to find out more about why German kitchen designs maintain the leading edge, contact us online, by phone, or pay us a visit at our Bishops Stortford kitchen showroom. For bespoke design for kitchens that are robust, practical, and stylish, contact Albany Kitchens today.